First Place Winner: Sandro Salgueiro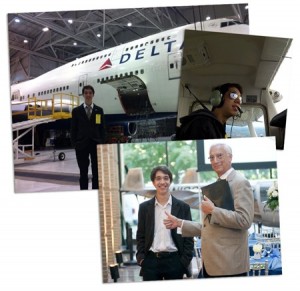 Sandro was born in Brazil, and is a third-year student at the University of Michigan studying Aerospace and Electrical Engineering. He has been passionate about airplanes since he was very young. Ever since he was a child, he has built plastic model kits of aircraft, read aviation books, and flown radio-controlled aircraft. At the age of 16, Sandro started to fly real airplanes, and continues to do so today. To Sandro, earning his degree in Aerospace Engineering will be another step forward in exploring his passion and becoming capable to help shape the future of aviation.
On campus, Sandro is the Chief Student Liaison for the aerospace department's Centennial Planning Committee. Additionally, Sandro is the Chair of S3FL (Student Space Systems Fabrication Lab), a member of MXL (Michigan Exploration Laboratory), and also a member of the College of Engineering Honors Program. He has recently accepted an offer from Delta Air Lines to intern at the company as a structural engineer, starting in August of 2014.
Throughout his undergraduate education, Sandro has been recognized with important awards, such as the Twenty20s Award by Raytheon and Aviation Week, and the Charles F. Barth Jr. Prize by the University of Michigan.
After graduating, Sandro hopes to enroll in graduate school in order to continue his studies of aerospace engineering. Afterwards, he wishes to work with industry on the design of the next generation of passenger aircraft.
Second Place Winner: Adrian Bazbaz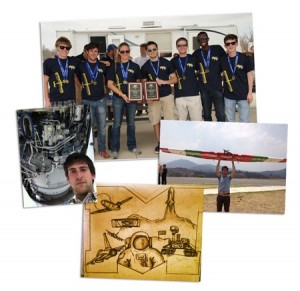 Adrian is an International Transfer Student from Mexico City. He transferred from Universidad Iberoamericana last year and will complete his undergraduate degree in May 2015 as an aerospace engineer with a German Minor. On campus, he is part of the Engineering Global Leadership honors program, and lead engineer of our Aero design team M-Fly. Adrian is also the founder of the aero design team of his former university, which currently holds the record for the most successful Mexican team in the SAE Aerodesign competition. He is also founder and president of the Experimental Musical Instruments Club here in Michigan, and he represents the College of Engineering in the Central Student Government.
Outside of school, Adrian is a passionate artist and musician, and he enjoys playing guitar, piano, and singing, as well as doing pencil, watercolor, and oil painting. In addition, Adrian has been an ice hockey player for 15 years and has represented Mexico in seven world championships in U-18, U-10 and Men's division.
Adrian's professional engineering experience includes two internships at a private aircraft workshop in Mexico called Avemex, where he worked in the modifications department to repair, program, service, and modify private aircraft. He hopes to work in Germany through the Cultural Vistas Program.
After graduation, Adrian is considering completing a Master's Degree in Industrial Operations or Manufacturing Engineering here in Michigan as part of his EGL program.
Third Place Winner: Janice Gong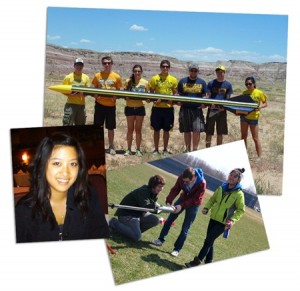 Janice Gong has been working toward an Aerospace degree since middle school, competing in rocket building contests until college. She is now a Senior, expected to graduate in April 2014 with a B.S.E. in Aerospace Engineering and a minor in Multidisciplinary Design, and is very excited to be part of the Centennial graduating class. She is the VP of Communications for the University of Michigan Student Chapter of the American Institute of Aeronautics and Astronautics (AIAA) and also highly involved in the Michigan Aeronautical Science Association (MASA) as the Communications Lead.
Janice has worked on many projects with MASA, more recently on a rocket for the Intercollegiate Rocket Engineering Competition that had an altitude goal of 10,000 feet. She helped the team successfully launch that rocket into a 5th place finish at the competition. Other projects with MASA include a rocket that deployed an S3FL CANSAT, and a rocket with a variable drag system.
Janice is very involved with community outreach through MASA and the Community Outreach Committee of AIAA. She won 1st Place in the Community Outreach Category at the 2012 AIAA Region III Conference for organizing a 3 week seminar that taught high school students how to design and build rockets. She is also proud to be the department's representative in the mentoring group for freshman in Engineering 110.
Janice has interned at Faurecia Interior Systems, an automotive interiors supplier, during the summers after sophomore and junior year, gaining experience in the fields of production, control, and logistics, as well as purchasing. Janice is interested in engineering communications, and is working towards a multidisciplinary design minor, with a concentration in communication studies, in addition to her aerospace degree to gain experience in that field.
After graduation, Janice hopes to find a career in the space side of the aerospace industry that lets her combine both communications and engineering, and to continue with community outreach and getting K-12 students interested in STEM fields.
---